Joined

Aug 12, 2008
Messages

23,954
Black Thorn
I am soooo getting this one!
from
Den of Geek
The manila envelope is unmarked and tightly sealed. It takes some effort to tear it open, as if the envelope itself is warning me: "Are you sure you want to see what's inside? Are you entirely certain you're up for this?" I answer the question by tearing the package open. As the 10 objects within slide across my desk – a journal, incident report, map, newspaper clipping, and more – it would seem I've accepted my role as a detective on the case.
And it looks like I'm delving into the dark history, and ongoing mystery, of Burkittsville, Maryland, the home of the Blair Witch. This is the Blair Witch tabletop experience by Hunt A Killer in partnership with Lionsgate and marks the first time the interactive murder mystery subscription box company has invited players into a story tied into an existing franchise. And with the first of six monthly "episodes" of
Hunt A Killer: Horror – Blair Witch available now
, a yarn is unfolding in real time that references the
Blair Witch
movies – and shares several characters with the
Blair Witch
video game — while still remaining accessible to the uninitiated. Speaking of yarns, whether you choose to crack open the case each month on your own (as I did with this episode) or with a group of friends, you don't need a corkboard with red yarn to connect the dots in this story — but it might be fun to have nonetheless.
"Blair Witch has a rich playground of storytelling," says Melissa LaMartina, Hunt A Killer's Director of Production, and someone who grew up in Maryland close to the real-world Burkittsville. "And there is this sense of mystery and exploration and discovery sort of inherent in the world of Blair Witch."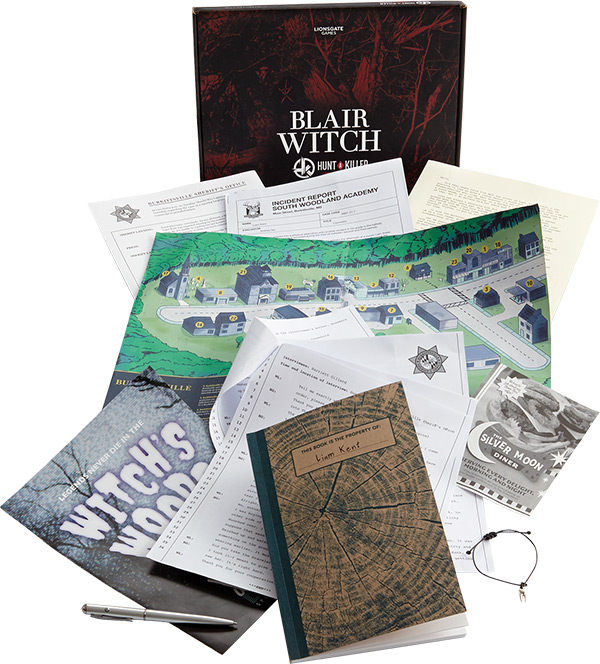 When developing the
Hunt A Killer: Horror – Blair Witch
story, LaMartina says showrunner Elinor Haney – along with writers Travis Madden, Tatiana Nya Ford, and Will Rogers, and designer Alaska S. Kellum – revisited the franchise installments and identified commonalities within the universe. And while observing guidelines and rules to the universe, she said she and the team viewed Blair Witch as a "perfect metaphor of just walking into a dark wood," with all the fears and mystery humans carry about wild, unknown reaches of nature.
But ultimately LaMartina said this Hunt a Killer series is about plucking out a single person, or single family, and exploring how they might fit within this established mythology.
There is much more in the link above, but I really live the idea. And it seems like it could get my creative juices flowing. I've always wanted to try one of these "games" and this one sounds perfect.
________________________
edit: I paid the $300 for the full year in advance. I used to LOVE the Griffin and Sabine books back in the day, so this sorta stuff is right up my alley.
________________________
here's a review of it
Last edited: