Fly! Be free, little bird, you defy category!
Joined

Apr 30, 2016
Messages

595
Location
Your pics and gifs are making me miss Willow... She was the cutest in the early seasons (and also in the later ones), but not when she had that terrible season 4 hairstyle:

Nah... She could pull it off... Damn her!
Willow could pull almost everything off. Dungarees, oversized hats, pink fuzzy sweaters, weirdest color-combinations...
Well, expect this: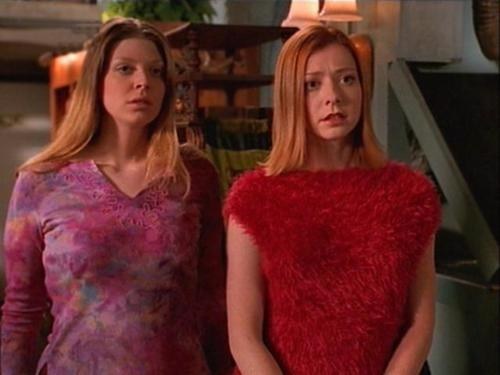 Gnah... I got eye cancer! (To be fair, Tara isn't much better...)
Quick! Something cute:
<3 <3
Also didn't like her S06 promo pictures. Blonde doesn't suit her.
I get it. Though to be fair, he kind of grows on you... Especially when he told Angel he was out and Angel was like "You were in?". I love that guy (not Andrew). Hmm... Maybe I just like Tommy Lenk's instagram?
When I look at Andrew in the comics I see a guy who violated Buffy's body, which makes her think she's pregnant btw, to "protect" her, but which (naturally) results in the opposite. He gets forgiven with the promise of doing better. Then he attempts to resurrect Tara for selfish reasons, which almost leads to Tara's soul getting consumed by the Soul Glutton (and a little breakdown of Willow). The worst is that Buffy and Willow end up apologizing to him because he doesn't feel loved and cuddled. Again, he apologizes and promises to do better. Then he creates Jonathan 2.0, again for selfish reasons which also backfires and results in an additional baddie at D'Hoffryns side. He always screws up in a major way, wallows in self-pity and learns nothing. There's no progress. He's just there to screw with Buffy's (and Willow's) mind and what's worst, it's resulting in a jarring behavior of them in return. I couldn't care less about his "coming out" arc because of that. Add that he overall has more plot than Willow, you have the reason why he gets the majority of my wrath.